Circus Workshops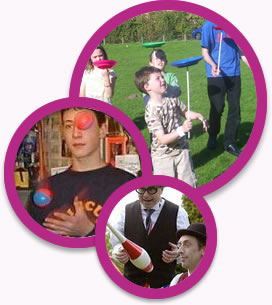 Circus skills workshops are great fun for all ages and are ideal for Fetes and Fun days - There's something for everyone making it great for families, especially with young children.
Suitable for 6 - 96 year olds.
Have a go, have fun, and learn something new in an informal setting.
Circus workshop activities include:
Juggling (from scarves to beanbags and clubs)
Plate spinning
Soft diabolos (safety tested and suitable for children)
Dancing styx
Ribbon sticks
Pedal go's
Stlits
Unicycles
Fun beginners tightrope for youngsters.
Providing there is enough space, circus workshops can be held indoors or out.
Safety is a priority and equipment used is suitable for the groups involved. An experienced tutor is always on hand to supervise our circus workshop.
Circus workshops for your fun day
Circus workshops are suitable for carnivals, fun days, county shows, community events, family learning days, children's festivals, art weeks, drama groups, and scout/guide jamborees and kids clubs. Special needs groups both children and adults are positively welcome.
Help and Advice for your Circus Workshop
If you would like more information about our circus workshop, or advice on how we could add a real fun element to your event, please contact us using one of the methods below.