Circus Workshops for Schools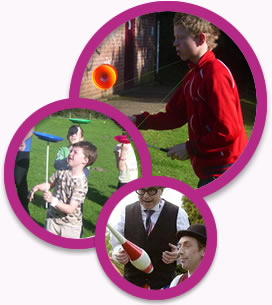 Circus skills workshops are very successful in schools and complement many other school activities. Our school workshops are tailored to the age of the children and discussed in advance with the class teachers to make sure that the children get maximum benefit and have fun.
Our school circus workshop times range from 45 minutes for the very youngest children to an hour and a half for the oldest and the children use a variety of equipment suitable for their age and ability.
Circus workshop benefits include:
Improvement in concentration levels
Boost in confidence
Success building on success
Improved hand eye co-ordination
Building greater self esteem
Helping children work together
Proven physical benefits – healthy sports like activity
Exercises the brain
An all-inclusive activity
Above all FUN
Contact Us
If you are a school teacher or administrator looking for a fun and educational workshop for your students, why not contact us and we will be pleased to advise on options available to suit your school?